Long-serving volunteers have received national recognition for notching up more than 135 years' work to help boost the health, happiness and quality of life for disabled riders of all ages and abilities.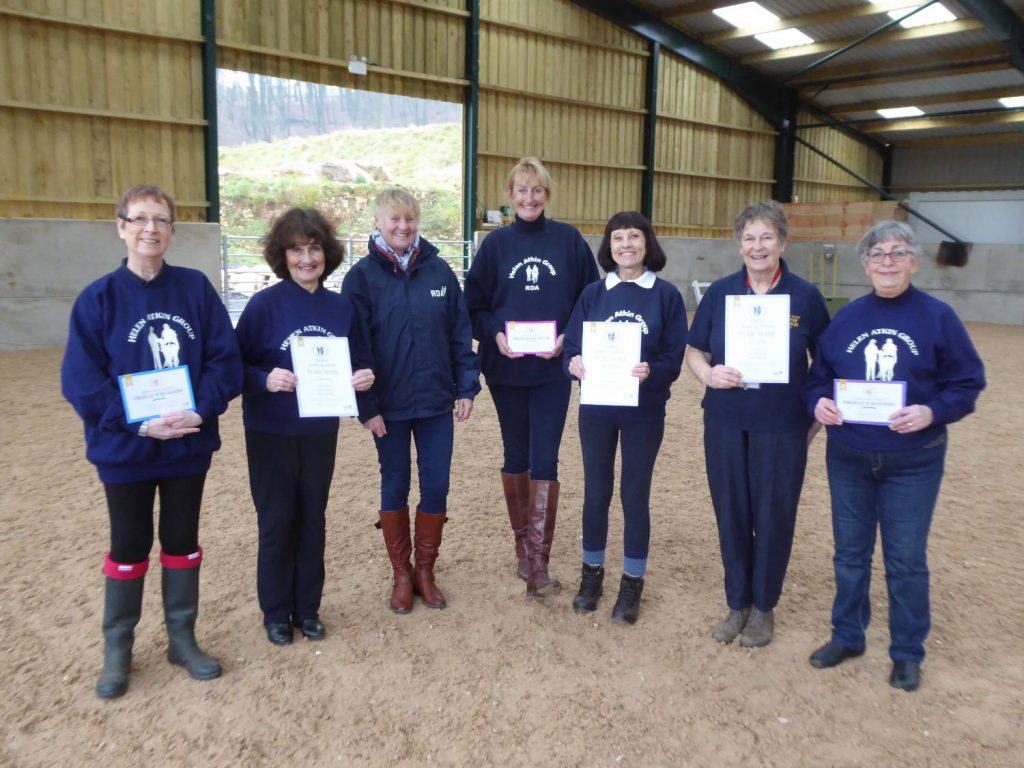 Five members of Helen Atkin Group Buxton Riding for the Disabled (RDA) have been given long service awards from national RDA for their role in supporting and encouraging riders from across the High Peak since the group was formed 35 years ago.
Founder members and Trustees Pat Atkin and Julie Andrew have received Pearl Awards for more than 30 years of service.
Pat helped to found the group in 1987 with her late husband John after their daughter Helen's untimely death at the age of 19. Though Helen had never ridden, she loved horses. One of the social workers at the Devonshire Dome, then a hospital, suggested setting up an RDA group in Buxton, as the nearest one was at Tansley, near Matlock.
The couple decided to use donations from Helen's funeral and joined forces with a group of people including Julie Andrew, Juile's daughter Caroline, then of Buxton Riding School, and Keith Martin, of Bells Shoes in Buxton, who became the group's first Chairman, to make it happen. Pat has been the group's Treasurer ever since.
Long-serving ex-group Secretary Julie's daughter Louise Thompson, co-owner of Buxton Riding School with her husband Dave, has also been involved since the age of 14, working in close partnership with the group over the years to provide premises, hire of ponies and horses and tuition.
More recently, Louise and Dave worked virtually around the clock to prepare the groundwork before building could begin on the group's prestigious new £168,000 covered arena at the riding school, and have continued to carry out essential associated works ever since.
Another recipient of the Pearl Award was group Trustee and PR Janette Sykes, who became an RDA volunteer in north east Derbyshire 35 years ago, and joined Helen Atkin Group Buxton RDA when she moved to the town in 1989.
Awards for both 20 and 15 years' service went to Val Mansell, for 15 years to Andrea Newstead, and for 10 years to former group Secretary Janine Frost, who succeeded Wendy Howe as group Chair in 2021.
Certificates were presented in the covered arena at Buxton Riding School by Jane Corrall, Leicester County Chair, RDA, who said: "It's a real pleasure to meet and receive a genuinely warm welcome from such fantastic volunteers, and to present them with these well-deserved long service certificates. Many congratulations and sincere thanks to them all."
Added Janine: "We are all thrilled to receive these long-service awards – they are a fitting tribute to the dedication and sustained support of our volunteers, many of whom have been with us for a long time. We work as a close-knit, inclusive team and couldn't operate without their enthusiasm and expertise.
"We are always happy to hear from new volunteers with different skill sets to join us. Our work is not just about dealing directly with riders and horses – we also need people with skills in areas such as fundraising, practical tasks and administration. In return, we can offer hands-on training and the opportunity to be part of a friendly and welcoming group of people, all helping our riders to achieve their full potential." Anyone interested in finding out more is invited to contact Janine on 07960 961605 or at janinefrostrda@gmail.com.